We just finished an amazing week at CHIC 2015!! If you visited us at Step into Congo you know that we were having a wonderful time connecting with students and learning together about day to day life in the Democratic Republic of Congo.
Throughout the week we heard about Project Blue and were reminded that Clean Water is for everyone – even though billions of people struggle to access it everyday.  This is an issue that is close to God's heart and therefore close to our hearts.  Access to clean water means relief from suffering for so many of our marginalized friends in the US and around the world.  Learn more and get involved with Project Blue here:  http://www.covchurch.org/relief/projects/project-blue/
Injustice related to water access is one of the largest challenges we are tackling through Covenant Kids Congo too – So many of you have already been running, biking, swimming, selling baked goods, and doing VBS and Camp projects, all to support the WASH (Water, Sanitation and Hygiene) Project in Congo.  These funds will impact over 30,000 people this year – and our end goal is to bring clean water to the entire town of Gemena, nearly 200,000 people!
In addition to water access we educate on sanitation and hygiene.  CKC has trained an impressive 180,858 people in Gemena on improved hygiene practices. This kind of investment in training means that behaviors will shift so when clean water comes, the source will remain protected and people will be informed and invested in their water source.  Provision of water is an important step – but training and education is how communities are transformed!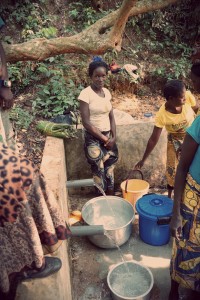 Women fetching water at their improved water source! It is now protected so animals and other environmental factors cannot pollute the source before it gets in people's jerrycans.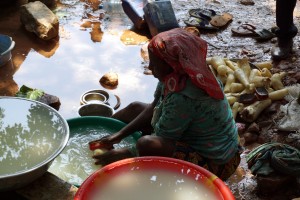 The Mama's make Malemba to sell in the market – this malemba is sweeter and of higher value because it is made with clean, tasty water.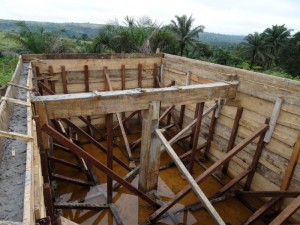 This cistern holds 11,000 gallons of water. It is part of an improved water system that provides beautiful clean water at 31 gallons per minute!!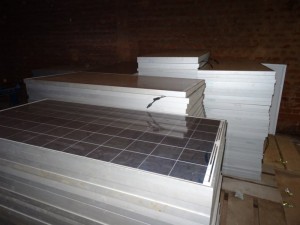 Solar panels that power the pumps so water can be stored in tanks, ready to serve the community.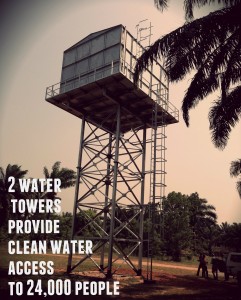 Water tanks are part of the larger water systems that will serve people at multiple access points throughout the community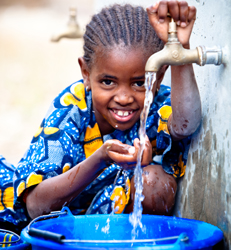 This is what we are about! Clean water bringing life to our kids and our communities.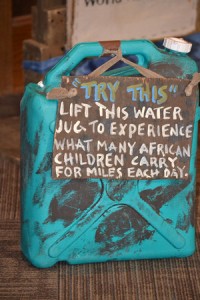 Have your church experience Congo – simply fill a jerrycan with water and talk about the impact of WASH (Water, Sanitation and Hygiene) in Congo.
Have more questions? Email: christine.buettgen@covchurch.org
"Then the angel showed me the river of the water of life, bright as crystal, flowing from the throne of God and of the Lamb through the middle of the street of the city." -Revelation 22:1-2