By Sara Blomgren, Serve Globally intern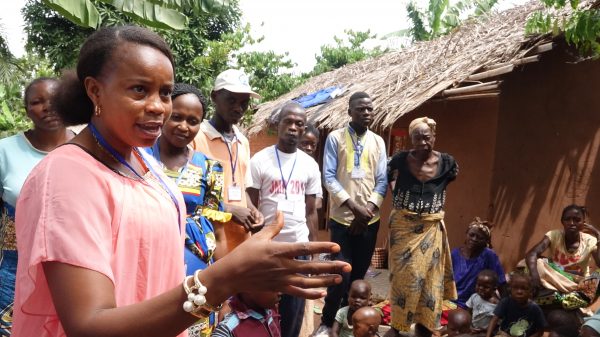 With a child mortality rate higher than the national rate of 119/1,000, families in the community of Gemena, in the Democratic Republic of the Congo, are greatly impacted by malnutrition. In Gemena, 6% of children are affected by acute malnutrition and 56% by stunting (meaning they have a low height for their age). In response, Covenant Kids Congo powered by World Vision has implemented the Positive Deviance/Hearth (PD/Hearth) program.
World Vision has used the PD/Hearth program since 1999 to address the issue of malnutrition in 46 countries around the world. The PD/Hearth program works with local residents with the goal of finding solutions that already exist within the community.
The program centers on the principle of positive deviance: "In almost every poverty-stricken area, one can usually still find impoverished families that have well-nourished children," as defined in the CKC Fall 2018 Report. These well-nourished children are known as positive deviants.
When a PD/Hearth session first starts, children in the community who are nutritionally above the norm are identified. Their family's behavior is looked at in order to identify what healthy behaviors they have implemented. These nutritional practices are then replicated throughout the community with materials from within the community. Because the solutions are found within the community, the new practices and behavior changes are culturally sensitive, leading to greater success.
During each PD/Hearth session, children and their caregivers are registered and divided into groups. The children are grouped together and spend time playing and singing. They sing joy-filled children's songs, with lyrics that teach important lessons like "Wear shoes so your feet are safe," and "I need good health." Children are also taught principles of sanitation, like washing their hands before a meal.
The caregivers in a PD/Hearth session learn how to cook healthy meals for their children, based on food readily available and accessible within the community. They are taught about the importance of a balanced diet and a healthy process of cooking, including sanitation principles. An example of an accessible, nutritionally rich and balanced meal implemented in one PD/Hearth session is okra cooked with dried fish, tomato, onions, and salt, served with fufu (yellow maize flour boiled in water).
"Mothers are working with trained volunteers to cook good food with all the elements they need for their children," said Dr. Philippe Ngenda, Master Nutrition Trainer.
Each PD/Hearth session lasts for 12 days. After the program is completed, World Vision volunteers follow up with each family that participated. If change is positive and consistent over the next 90 days, the program is considered a success.
Between January and March of 2018, 150 caregivers and 30 children participated in three PD/Hearth sessions. Of these children (ages 6-36 months), 15 were rehabilitated, gaining nearly a half pound.
Parents and caregivers who've participated in PD/Hearth expressed thanks for God's work and all they've learned. Some have even joined local PD/Hearth committees to help other malnourished children.
"I thank my God for having healed my child, Desiré, from malnutrition through the work [of] the community volunteers, achieved in the Positive Deviance Hearth [program], with the World Vision support," said Faustin.
Sara Blomgren is an intern for Serve Globally. She recently graduated from Moody Bible Institute with a degree in Intercultural Ministries, and her home church is First Covenant Church in Rockford, Illinois.