During an event at Crossroads Church in Woodbury MN a few weeks ago, a couple approached me with a mysterious story to share.
Lynn and Mike Piens received a letter from their sponsored child Justine, which is a wonder in itself as anyone who sponsors a child knows.  But this letter was wonderful in a different way – this is how the letter showed up in their mailbox!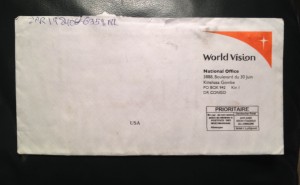 No address, no return address, but the correct letter from their sponsored child all the way from Democratic Republic of Congo to this family in suburban Minnesota!
This is just another way that we can celebrate the mysterious ways God moves to bring people together across continents and cultures.  While this story may be small, it is a reminder that God is able to do great things beyond human capacity – and that's why we rely on him completely as we do this work of fighting poverty in partnership with Covenant Kids Congo. Today we pray for Justine and and her sponsors, that they would grow in their love for one another and their God who is wonderful and incomprehensible.
Thanks Lynn and Mike for sharing your story!