One of the things that I have loved about child sponsorship is how easy it is to connect with her via
My World Vision
. 
My World Vision
makes it easy for me to write emails to my child, send pictures, and hear back from her! A few weeks ago I discovered that there was a video of my sponsored child posted on my giving page! I eagerly opened the video, and will share it with you here: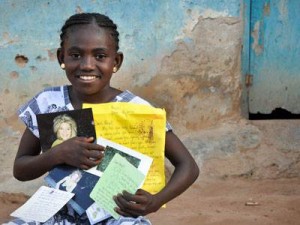 http://media.worldvision.org/csi/198405/PUXS/198405-PUXS_20130910_165709_CGV_Web.mp4#.VLWOvm1NA6c.email
I feel really lucky because I can understand the Lingala she speaks, and can picture where she goes to school. La Grace lives with her grandparents and brothers, so my guess is that life is not always easy for her.  Being the only girl in a family means she bears responsibility for most of the household chores – cooking, cleaning, carrying water and caring for younger siblings and cousins.
I am hopeful for La Grace because she is in school, which means her family values her education and can afford to send her to school.  She may not have it easy – but I see resilience and determination in her.  It is my hope that I can be another voice of encouragement and love in her life – for those days when she feels insecure and misunderstood.