Lenten Prayer Guide – WATER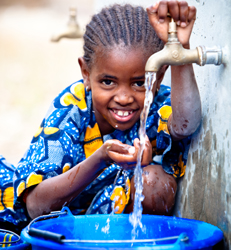 Click here to follow our Lenten Prayer Guide.  Let's pray with our friends in Gemena, DRC as we live into the resurrection of Jesus.

Start with the facts.  End with prayer. 
This week, it's all about WATER in DR Congo. 
(Keep an eye out for our next post which will be centered on agriculture.)

In DR Congo, 46% of the population has access to potable water.
We pray for clean water access for all.  We pray for those who are implementing the deep well project, and we pray for the water committees – strong, committed local women who intercede for their children be protected from water-related illnesses.
In DR Congo, only 31% of households in rural areas have access to an improved water source. 
The Ledia Project is in a mostly rural area.  We pray for the rural families of Gemena who subsist on small-scale agriculture.  They have limited clean water access.  Give them strength for their task of carrying water multiple times daily to keep their families healthy and hydrated. 
In DR Congo, just 30% of the population use adequate sanitation facilities.
Lord, we ask wisdom for those who educate communities on the importance of hygiene and sanitation.  Give them loving and guiding words, and give the community open ears and open hearts to change their habits to improve health.
443 million school days are lost each year due to water-related diseases.
Oh Lord, how we value the education of this new generation! We cry out to you for the children who are unable to go to school – heal them and open ways for them to return to the classroom so their minds can grow.
In developing countries as much as 80% of illnesses are linked to poor water and sanitation conditions.
Lord you are the Living Water that restores us, body and soul.  Satisfy the thirst and heal the sickness of our sisters and brothers in Congo who struggle every day for clean water and life. 
According to the WHO (World Health Organization) every $1 invested for water has an economic return of between $3 and $34!
Lord, give us significant return on our investments in the Water Project.  Not for our own gain, but so water will flow, justice will reign and communities will flourish.  Amen.