Reflections from Christine Buettgen, Project Manager for Covenant Kids Congo powered by World Vision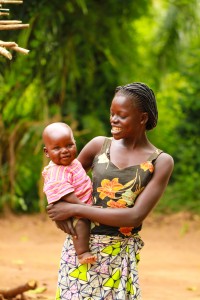 During my two year stay in Congo, I came home to celebrate Christmas with my family in Chicago. I was lucky to have family members who loved me enough to pay my ticket home! By chance, one of my dear friends was having a baby shower for her first born around the same time. She didn't know I was coming home from Congo, so I was going to surprise her at the baby shower. That initial moment was priceless – her jaw dropped and her eyes welled up when I walked into that apartment. But I didn't know that I would be in for a surprise even greater than hers.
It was so nice to catch up with old friends – to enjoy intelligentsia coffee, pastries, blueberry lemon sangria and a marzipan almond cake from the local Swedish Bakery – I hadn't eaten berries or anything close to resembling a cake in over a year! Needless to say I was enjoying myself. Probably too much.
Later, the gift opening began. It started with baby clothes, rattles, stuffed animals, blankets, all the usual fare for a baby shower. Most of it was "boy colors" which made me reflect on my male colleagues in Congo who have no problem wearing florescent pink and violet flower prints on their clothing. (Gender specific colors are actually a fairly recent phenomenon – it used to be that in North America most babies wore white dresses – color neutral. Pink and blue didn't come on the scene until the 1950's). Then a big box came forward, and what emerged was…drumroll please….a diaper genie. I know, I know, you're thinking "That's not surprising, where is this story going." But imagine coming from a world where diapers are not available at all. Imagine seeing a mother of seven children who has never used one diaper during the entirety of her motherhood. The fact is that diapers are near the bottom of her list of worries. She is more concerned about finding her children enough food to eat everyday – and having access to decent medical care if they get sick. Many kids walk around without pants because it's too much work to be washing their soiled clothes by hand constantly. Kids might have no more than two outfits. No washing machines, no cribs to sleep in, no car seat (no cars!) no strollers, no baby showers.
With all the travel I have done back and forth between the States and Africa I don't experience culture shock like I used to. I am able to function in two very different cultures simply because I was determined to adapt. But there are moments – like seeing my friend receive a diaper genie – that I have difficulty reconciling our sanitized privileged world with that of my friends in Congo. Motherhood is both a great joy and a great challenge in any context. It is the same for the mamas of Congo. We can't define their experience of motherhood by their lack – they have certainly raised beautiful, intelligent, resilient children without what we would consider necessity – but their burden is heavier, the hope for their children's future is more fragile.
As we celebrate the mamas in our lives, let's also celebrate our sisters in Congo. Today, like every other day, they will wake up before sunrise to walk a mile to fetch water so their families can make morning tea and bathe themselves. They will trek 3 miles to work in their fields that will produce nourishment and income for their family. They will take clothes to the river to wash. They will go to the market to pick up cassava leaves and cassava root to make for the one meal they will eat today. It is our great hope (and CKC is working to ensure) that they had funds to send their children to school today. Their infants will be wrapped to their backs throughout the day today, content, bouncing to the rhythm of their mama's stride.
We all know it takes a village. Celebrate a Mama. Sponsor a child.