The following is a message of support from the president of the Congo Covenant Church (CEUM).
My dear Evangelical Covenant brothers and sisters,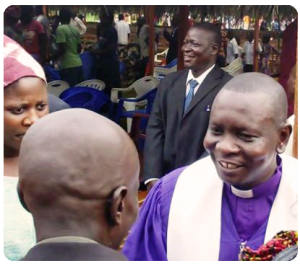 I would like to begin by communicating my appreciation for your prayers and support as I begin my responsibilities as President of CEUM here in DR Congo. I am anticipating a wonderful fellowship and ministry together with you over these next years.
Further, I would like to pause for a moment and let you know of my support for our partnership with the members of the Covenant church in North America and World Vision in helping to contribute to improvement in the well-being of our children here in the Northwest of DRC. Along with the critically important support we receive through your missions giving and that of the Paul Carlson Partnership and others, we see great promise in what we will be able to accomplish together with World Vision.
The World Vision led process is currently in the design phase where we are evaluating those problems we find most important to address. This is giving us the opportunity to reflect on the many ways in which CEUM is providing both spiritual nurture and ministering in areas of health and education, among others.  We are looking forward to both learning and contributing much to this initiative and are encouraged by your commitment and willingness to join with us in what God is doing in our midst.
May the Lord richly bless each of you,
President Mboka Jules