The following is an example of how Brookdale Covenant Church in Minneapolis, MN presented their Hope Sunday event to the community. We hope it will inspire your church as you consider how to host a Hope Sunday. More feature church stories are coming so keep checking back here. If your church has a story to share, email us at covenantkidscongo@covchurch.org.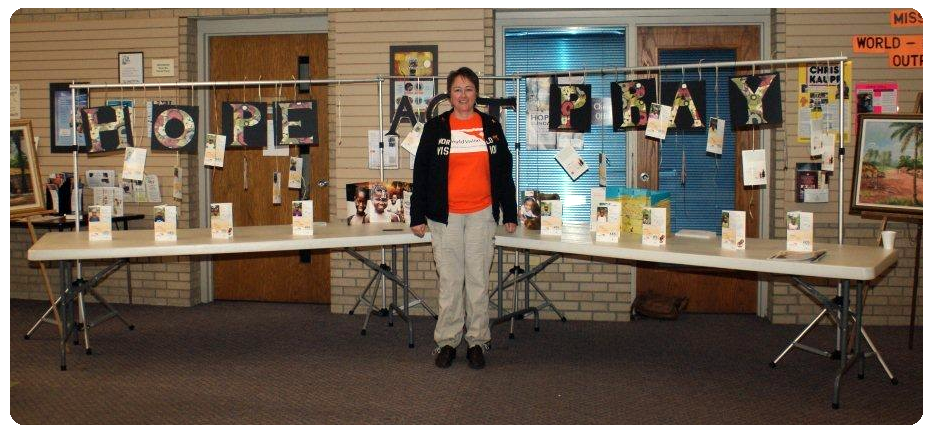 Written by Renee Franzen, pastor of Christian Formation & Discipleship at Brookdale Covenant Church
Hope Sunday was such a powerful day here at Brookdale Covenant Church. We hoped that we could sponsor 40 kids, although that felt like a real stretch! After the dust had settled, 38 children were spoken for and the volunteers who came from World Vision to help suggested we request 8-10 more names, as several people had indicated they would like to pray and return next week. We are awaiting those profiles to come soon.
It was so wonderful to have Reesheda Washington, project leader of Covenant Kids Congo, speak in our Q & A Adult Forum. Knowing how God had prepared her for this work gave such wonderful context. It was very meaningful to our community. The Spirit was oh so present in the worship service that followed and the response was joyous, enthusiastic, and heart felt. We were able to "re-member" our history of commitment to the Congo with Covenant missionary Jody LeVahn, and remember the story of her being sent from Brookdale – the very first missionary, the very first action taken by Brookdale in it's new building. We showed the pictures from the Life Magazine of 1964, retelling the story of Paul Carlson. All of this makes the Congo Kids project a "natural" for the Brookdale Covenant community.
Two stories really touched me. The first was of one of our high schoolers who had raked lawns on Saturday and earned ten dollars. On Sunday she gave that $10 to sponsor Julian. This young girl currently lives in foster care. This is sacrificial giving. Her friend, had $5 with her that day. Five dollars is hard to come by for her too. Her housing situation is in constant flux, as is her family. But she gave up her money as well, declaring that the boy the high school sponsored would now be known as "Ju-Ju". These are kids who understand struggle first hand. But they also now understand that they are able to give and be a part of a healing community. Priceless.
We will celebrate All Saints Sunday this Sunday with a renewed commitment to live as "prisoners of hope", people who are called to love the world, and it's children.