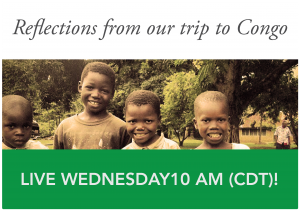 On Wednesday, August 29th at 10:00 a.m. CDT, the Covenant Kids Congo team will be hosting a live webcast discussing their recent trip to DR Congo as well as unpacking the resources available within the Hope Sunday kit arriving at your church prior to your Hope Sunday event. Representing the team will be Adam Phillips and Reesheda Washington.
If you happen to miss this opportunity, you will still be able to view it on CovChurch.tv in its entirety or on the Hope Sunday Resources section of the Covenant Kids Congo webpage.
Our hope during the webcast is to answer your questions concerning the material available to churches within the Hope Sunday kit as well as what you would like to see available online. Insight into how we can best support your church is greatly appreciated. If you have any additional questions which aren't answered in during this time, don't hesitate to contact us via email at covenantkidscongo@covchurch.org.