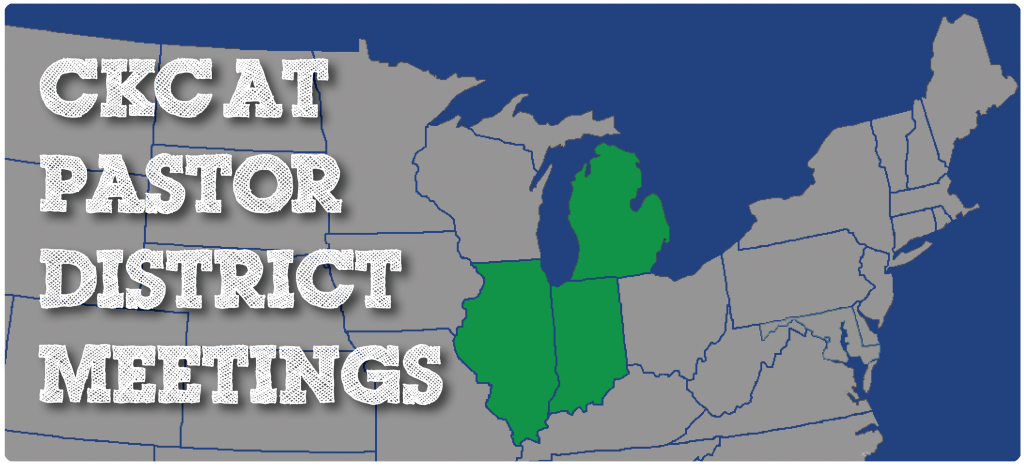 Written by Adam Phillips, project consultant
The last couple months I've had the opportunity to visit with and find new partners for Covenant Kids Congo powered by World Vision in various regional pastor district meetings. I've most recently spent time with pastors in Western Michigan, Detroit, the Mid-Atlantic, and Indiana. What's incredible to me is that while every district is unique in its flavor and emphasis, each group of pastors has been eager to both share how they've already been involved with Hope Sundays as well as encourage and inspire their colleagues to take part in this remarkable ministry .
Earlier this January, it was great to kick off the new year in Detroit. They are busy planning the pre-Annual Meeting gathering "Mission Detroit," which brings Covenanters across the country together to learn about the city while serving alongside a number of important urban and suburban projects. Even with the Detroit group's major emphasis on local mission, they were jumping in to both pray and act for Congo. Pastor Semmeal Thomas of City Covenant Church presented CKC with a special offering for Congo and an incredible amount of encouragement. Pastor Johnny Aho of Dearborn Covenant Church shared their church's recent Hope Sunday success, while Pastor Alex Rahill of Life Church in Canton, MI shared their church's vision for raising money for clean water projects in Congo around the upcoming Detroit marathon and half-marathon.
This past week, I drove from Chicago to Lafayette, IN where a few of us braved a white-out around the city of Gary to share our stories at the Evangelical Covenant Church. Stacey Littlefield, pastor of ECC Lafayette, is also a part of our pastor's advisory team. Their pastoral team shared a commitment to Covenant Kids Congo which stretches from their recent Hope Sunday to the Thirty Hour Famine. Pastor Ryan Cooper from the South Bend church encouraged each of us to make sure that our Hope Sunday's weren't just a one-time event for Congo but a multi-year commitment to journey together.
If you'd like someone from our team to join your district meeting in person or by Skype or phone, contact us at covenantkidscongo@covchurch.org. We are excited about what the Covenant is doing together in this ministry, and we want to be as supportive as we can in continuing to spread the word about Covenant Kids Congo powered by World Vision!