Pilgrim Pines. Covenant Pines. Covenant Bible Camp. Covenant Harbor.
What do these four Covenant Camps have in common?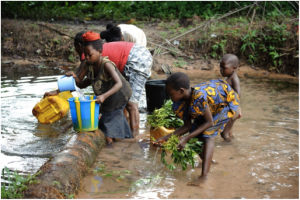 Each year, Covenant camp participants have the opportunity to partner with ministries around the world, which allows international ministries to reach out with the love of Christ in a variety of ways. In 2013, Covenant camps teamed up with Covenant Kids Congo and raised nearly $60,000.00 to help provide clean water and access to better sanitation and hygiene in Gemena, located in the Equateur Province of the Democratic Republic of Congo!
Bill Fish, former director of Covenant Point Bible Camp, mobilized young Covenanters to see that "the need is very great and it is important not only that the project be accomplished for the sake of children in the Congo, but also so that the children here in North America will learn that they can make a difference in Christ's name, to change the world, and advance the Kingdom of God."
Changing the world in Jesus' name is exactly what the Camp Project has helped accomplish, because according to UNICEF, "about 4,500 children die each day from unsafe water and lack of basic sanitation facilities. Countless others suffer from poor health, diminished productivity and missed opportunities for education." The most vulnerable and likely to die from unsafe water and lack of sanitation are children under the age of five.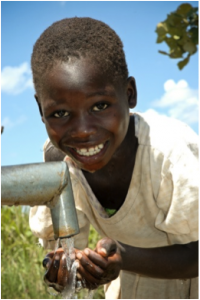 Having clean water creates a safer, healthier, and more vibrant community for children. This project will provide:
Water Testing – Each viable water source will be tested to be certain the water is clean and that the source will continue to provide water, even during the dry season.
Capping of Springs – A 'spring box' will be built to capture and contain water, to avoid contamination from agricultural runoff, rain water, and animal or human waste. This is a cost-effective way to provide drinking water to individual homes as well as the entire community.
Education – Teaching effective sanitation and hygiene is important for the community of Gemena to manage and care for the WASH systems being put into place. Education will ensure the continued health of the water sources and the community."
Through the Camp Project, Covenant Kids Congo has received approximately 40% more in giving than we have in the last 3-5 years! Because of endeavors like Camp Project, Covenant Kids Congo hopes to see 30,000 people have access to clean water and 1,500 children benefiting from improved access and quality of education. In the big picture, 6,000 children are currently sponsored, but we pray that 4,000 additional children receive sponsorship as well. Will you pray, hope, and act with us? Consider child sponsorship today.
Covenant campers, we thank you.