Good: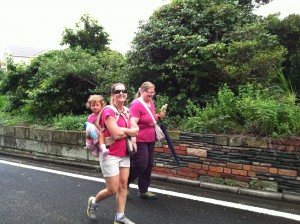 – We made it safely after 20 hours of traveling with way too much luggage on two rather uneventful flights.
– We have been welcomed with open arms by Gary and Pauline Carlson, long-term Covenant missionaries who have been here about 30 years.  They have been helping us get our apartment, our car, take us grocery shopping, show us around the city, and just in general helping us get adjusted to life in such a different world.  They do lots of "little" things (that really aren't so little), like buying Sophia small toys and snacks, bringing her a Micky Mouse towel to borrow, giving her a kid's chair, providing us with beds, towels and much, much more.
– We have already visited a Japanese church, a Hispanic-Japanese church and a Brazilian-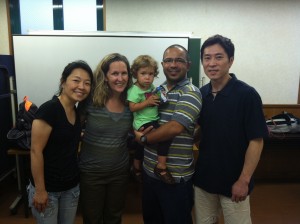 Japanese church.  We have been meeting people who speak Spanish and English in elevators and at coffee shops.
– We found an apartment to live in the second day here! It's a three minute walk from the Mutsuai station in Fujisawa, Japan.  There is a family with a four-year-old and three-month-old on our floor and a two-year-old on the floor below us.  Pauline prayed specifically for a place that would be peaceful and this apartment is named "Calmo Spazzio" which means "Calm Space" in Italian.
– Johnna absolutely LOVES the food, Sophia seems to enjoy most of it, and Fabio is doing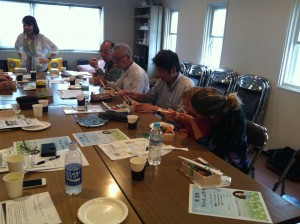 better than expected, finding things that he likes.  This Friday we plan to help him out by ordering pizza – a most welcome treat after a lot of rice, sushi and soba (noodles).
– We found a Japanese language school that we plan to check out on Monday for free and then begin officially on Tuesday.  Fabio will go to the beginner's class from 9:10am-12:30pm and after a trade-off of Sophia, Johnna plans to attend the 2nd level class from 1:10pm-4:30pm. We are thinking of taking about 4 weeks like this and then Fabio will likely continue a few more weeks.  The school's largest population of students are Vietnamese followed by Nepalese.  We're excited to learn alongside our Asian counterparts!  (We're also very grateful that the first school we looked at didn't work out because almost all of the students are Chinese and we would have felt completely lost next to them since they naturally can understand the Chinese letters, the fourth and hardest alphabet within the Japanese language). The best part is the name of the school is Aishin (see the Japanese kanji below).  The first sign means "love" and the second means "heart".  So, we'll be going to Love Heart Language School.
Hard: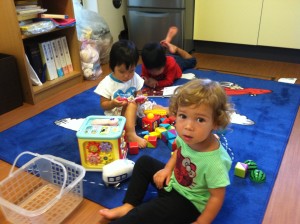 – As our friends who are preparing to serve in Germany put it, "Jet lag as adults is one thing.  Jet lag with a toddler is another!"  Our first week we had very little sleep and quite a few Sophia meltdowns.  We sense a better pattern as of yesterday as Sophia is starting to nap and sleep more regular hours and Fabio and I are sleeping past 2am Japan time.
– In general, the transition has been difficult emotionally.  It's hard to explain, but it's very likely normal culture shock.  There is just a sense of tension we can feel that makes even small mishaps more frustrating.  We knew it would be a huge adjustment.  It has felt like that times three.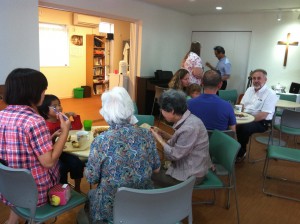 – Fabio and I are used to moving to new cultures as single people.  It has been challenging (but we're very slowly catching on) to work together, communicate well, make plans for the day together, find balance between accomplishing tasks and having a bit of fun and release.  Our full-time "work" right now is cultural adaptation and it takes a LOT of energy physically, mentally and emotionally.
Overall, it is an incredible privilege and honor to be here, beginning this journey with literally hundreds of people who are following along, praying for us and walking with us. We are more aware than ever of our inability to do this on our own.  Tasks that used to be simple in the U.S. can take the better part of a day to accomplish here.  Each day is a stripping away of pride and that strong desire to be "productive and effective".  The productivity and efficacy is in the living and being right now.  The more we embrace that and live in the moment, the more we are able to see the struggles and interruptions to our version of productivity as opportunities to trust and walk with God.
Johnna