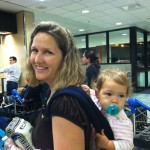 On November 8th, Fabio, Sophia and I packed our bags as lightly as possible with a borrowed Ergo baby carrier in hand to embark on a 3 week journey through Colombia, Ecuador, Argentina and Brazil.  It was the trip of a lifetime!  3 weeks, 8 flights, 7 beds, 1,000 people, 63 meals and at least 42 desserts later, it is fun to reflect on our time and see what we learned.
Medellin, Colombia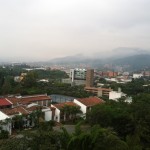 First stop was in the enchanted city of Medellin.  I had no idea this city would be so beautiful.  The taxi ride was memorable as the taxista (taxi driver) drove up and down rolling hills and sides of mountains for a good 40 minutes while talking to us incessantly and looking over his shoulder or in the rearview mirror at us 90% of the time.  How we made it safely to our hotel with him rarely looking at the road, we'll never know.
We had the chance to see a bit of the city on Saturday, Nov 8 and then headed to bed.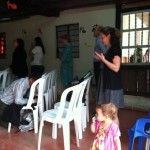 The next day, Gary and Mary Lou Sander picked us up at the airport and drove us a ways to the edge of the city where we were able to experience a Colombian Covenant church service.  The pastor is in a wheel chair due to being shot in the spine when saving his brother from a bullet in a drug-related shooting.  In a culture where health, wealth and prosperity are often preached, we imagined what God is able to do with a pastor in a wheelchair.  Families who are struggling with the joys and challenges of special needs in children and adults find a welcome home at this church.
Fabio and I took turns watching Sophia as the music roared out of the small structure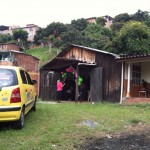 that functioned very well as a gathering for people of all types, eager to hear a word from God.  A young woman's testimony was followed by a beautiful sermon by Gary about restoration and hope.  After church, we went to the Sanders' for lunch where they fed us salad and a delicious chili soup.  We heard about Mary Lou's work with AVA (Advocates for Victims of Abuse) and she showed us some of the purses the women who had overcome abusive relationships in a microenterprise had made.  Both Gary and Mary Lou serve pastors and leaders in the area, traveling to different churches and training, encouraging and empowering brothers and sisters in the Body of Christ.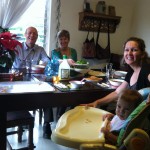 To read more about the Sanders in Medellin: http://blogs.covchurch.org/sander/
On Monday, we had breakfast with Julio and Katie Isaza in their home.  Katie shared what it's like to have Bible studies with young professionals and then turn around and serve people in extreme poverty and/or on the streets.  She was open about the tension this can create, but says that if people with resources can be educated and transformed, they will in turn be able to be a great help to those in need.  Julio travels a lot to encourage and train lay leaders throughout Colombia, while Katie leads various ministries and keeps up the connecting/communicating with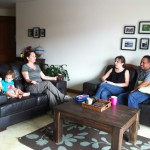 supporters.  With two young boys, their lives are never dull!  It was a joy to eat some traditional Colombian food with them (that Katie prepared) and discuss the joys and challenges of ministry in Medellin.
To read more about the Isazas serving in Medellin: http://blogs.covchurch.org/isaza/
Quito, Ecuador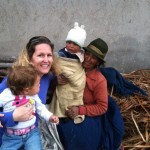 Our way out of Medellin was eventful, to say the least. We had to wait in an EXTREMELY long line – the longest line I've ever had to wait at in an airport because LAN airlines had cancelled a flight to Bogota. They split us up into two lines – Quito and Bogota, but the same people were helping us all so it took FOREVER. Finally, after not moving anywhere for about 40 minutes, Fabio thought to pull the baby card. He told a worker we had Sophia and she moved us way up to the priority line. It's a good thing he did this because after another 30 minutes (and about 15 trips up and down the escalators with Sophia), Fabio finally got to the front only to be told we had to have special paperwork in order to take Sophia out of Colombia. South America is very strict when you're traveling with a child to make sure you are truly the parents. This is a good thing because they're trying to fight against kidnapping and human trafficking, but it needs to be taken into consideration when flying with a little one. While I watched Sophia, Fabio ran from one counter to another and then back to the other one again, then back to the front counter with the paper needed to let us out with Sophia. Whew!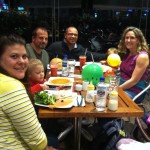 We landed on time in Quito and Joel Delp, one of my friends from seminary (with whom our friend, Jodi Moore and I ran a marathon in 2004 in the Twin Cities), picked us up. He had a car seat for Sophia (woo hoo!) and took us to their place (after suggesting I do not drink the water fountain water at the airport). There, we saw Kim and baby Esther (5 months). Simeon, their son, was sleeping, so we didn't get to meet him until the next day. Kim made homemade guacamole and what's more impressive, homemade chips (!) and we ate and chatted into the late hours of the night. So much to catch up on!
Our first day in Quito, we went with Joel, Kim and Esther to a prayer meeting with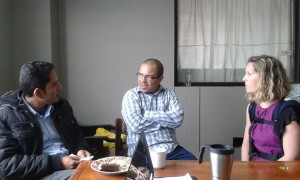 the Covenant Church of Ecuador. It was wonderful to experience a meeting with our sisters and brothers in Quito in Spanish!! The topic was something about cleaning our heart. We celebrated Joel's birthday along with one other person's birthday and then had the chance to speak to Henry for a bit, the president of the Covenant Church or Ecuador. It was a very encouraging conversation. Henry was well aware of Latinos living in Japan and some of their challenges.
We ate a delicious traditional Ecuadorian meal for lunch after picking up Simeon from school (think he got out early!) and then headed home for a bit of rest before going out to do some sight-seeing. That night we celebrated Joel's birthday at a place called Crepes and Waffles – AMAZING!!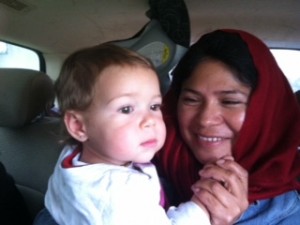 The second day was another really important day. We got to join Kim and Joel (and Esther) as they drove out to the Compassion Center right near the orphanage they are building. There is a clinic on the Compassion Center property (or right near it). It was built as soon as the community heard Kim, a medical professional (nurse practitioner), would be coming and felt called to work at a clinic. Until the day we happened to be visiting them, Wednesday, November 12th, 2014, Kim had not been given permission to practice medicine in Ecuador. It was an enormous honor to be onsite when Kim was able to practice in Ecuador for the first time. She saw 20-30 kids in just a few hours. We are SO PROUD of the work they are doing. While she was working, Joel and our family snuck away to nearby communities. One of which was the same community I had the chance to visit 10 years ago – Lote 4. We built a grain mill for them at that time, but it's no longer in use. I recognized the teachers at the school and many of the buildings. It was emotional to be back – remembering all the kids we played with and experiences we had as a team.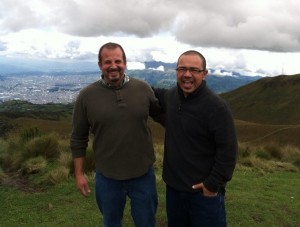 The third day, Fabio and Joel went up in the teleferico (cable car) to see the city. I had asked to stay at home and rest a bit, but I took Sophia to a nearby park and then we all went out to eat before we had to head to the airport.
We felt exhausted just hearing about the orphanage they are starting, the clinic they are helping to run, both part of the Santiago Project, not to mention their friendships, neighbors, supporters and communication, parenting and many other activities they are a part of. Our time with the Delps was precious and a very important part of our trip. 10 years ago when we were training for the marathon, I wouldn't have been able to predict that I'd be visiting them in Quito a decade later.
Buenos Aires, Argentina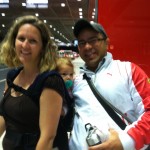 Our exit from Quito was not without drama… we arrived about an hour and a half before our flight was to take off and the airline workers asked us if we had received an email saying our flight was leaving an hour EARLY. We were shocked and said, "No! We didn't receive anything!" They didn't seem to believe us, but after a few seconds, their faces changed and they decided to let us through. They then proceeded to do everything in their power to rush us through the line and then through the security line. I've never seen such help from an airline! We had two people running with us through the airport, carrying our heaviest luggage, and telling all the security officials that we needed to go through or we'd miss our flight. I don't even remember them really checking our bags and I think we were able to keep all our liquids without any problem. They took us all the way to the gate and we walked right on the plane. We were by no means the last people getting on, but soon after, we took off, so grateful to have made our flight that was leaving a full hour AHEAD of schedule! We flew through Guayaquil (I think) and then made it to Buenos Aires the next morning, around 7:45am.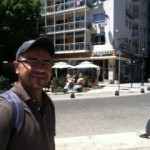 Once we landed, we asked a few taxi drivers their rate and went with what we thought would be the cheapest. But then, we got out of the airport and the taxi drivers there quoted almost half of what we paid! Feeling a little cheated, we decided to forget about it and rode all the way to our hotel (at least 30 minutes, maybe 45) with our driver who had Italian roots. Fabio had a great time sitting up in front with him, asking him what sites to see and where to find some authentic Italian food.
Buenos Aires was truly vacation for our family. We had no appointments, no plans, a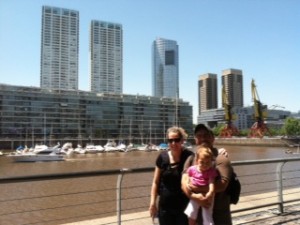 beautiful hotel room that had been gifted to us by one of my consultants, with all-you-can eat gourmet buffets included with the executive club, membership we'd received as an upgrade. Now we know how the "important people" travel! 🙂 We ran around the city with Sophia on our back. One of the highlights was seeing a cafe with the name of Fabio's grandma's maiden name. We had a coffee and snack there while Sophia took an incredibly long nap (you'd be tired, too, if you were 16-months-old and in your 3rd country in 6 days!). The best part was we met Carlos. He seemed to be the manager at the place, was extremely sympatico (friendly) and asked us all kinds of questions about Project Japan. He told us of stories of his friends who are missionaries in Indonesia and we felt a kindred friendship was building. We exchanged emails and went on our way to see the rest of the city.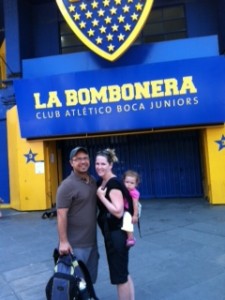 While walking by a perfume shop, we started speaking with a man who told us about his exhibit of perfumes. I remember studying French in Belgium – we studied the person who works with perfume called the "nez", which means "nose" in French. I asked the man if they had a "nez" working there. He said yes and told us a little about the company. Then, very humbly, he admitted that he himself was the "nez". I was thrilled! There aren't that many of them in the world – I think around 300 – so it was great to finally be meeting one! They have an ability to smell things that "regular" people can't smell, which is why they work in the perfume industry.
We visited the cathedral, the plaza, and a restaurant that was an Argentinian steakhouse.
Sophia and I went swimming at the hotel pool both days while Fabio took a nap. We all went to bed pretty early in Argentina, taking the time to rest before the culmination of our trip… in BRAZIL!!!
BRAZIL
Atibaia
We arrived in São Paulo, Brazil on Sunday, November 16, so happy to be in Fabio's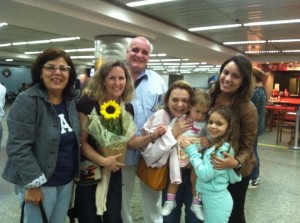 home town!!  Meeting us at the airport were his sister, niece, cousin and family.  They had a sunflower plant for us!  We quickly ran to the restroom, bought some water and then it was off to Atibaia, the place where Fabio's family stays when they are on vacation.  My mom was waiting for us there with Fabio's parents because she had flown in on November 13th and spent several days with Fabio's parents with no translator!  They somehow communicate well – lots of gestures and pointing.  Kind of like permanent charades since Fabio's parents don't speak English (except his father does say, "Come on, baby") and my mom doesn't speak Portuguese (except for "Eu te amo" which means "I love you").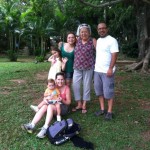 Atibaia is up in the mountains.  The air is so clean, it has been compared to the air in Switzerland.  (Not sure how that can be when it is just an hour or so from a city with 20 million people, but guessing it must have been tested).  We spent a week in Atibaia, with day trips to Monte Mor and Valinhos to preach, share about Project Japan and visit and stay with friends.
These day trips with one overnight were fun for Fabio and me because we had about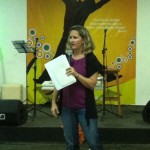 30 hours away from Sophia and she had about 30 hours being absolutely spoiled by 3 of her grandparents.
Atibaia has a cute downtown area where Fabio got his haircut by a man who was well into his 90s (it took a VERY long time, but it turned out well!).  Fabio's grandfather used to get his hair cut by the same man at the same location many years ago.  We went to the park, went for walks and runs up and down the hilly streets, visited neighbors and began what would be a two-week stint of eating way more than necessary (and dessert three times a day).  One of the days we were there was a holiday in Brazil called "Black Awareness Day" Dia da Conciência Negra in Portuguese, and it is a day "to celebrate a regained awareness by the black community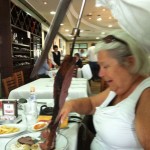 about their great worth and contribution to the country."  To celebrate, we had a barbecue at Fabio's house and his cousins came out from the city to join us.  His cousin made more meat than I've ever seen in my life (except at a churrascaria) and the salads accompanying it were delicious!  Cake, cake, more cake, ice cream and the day was complete.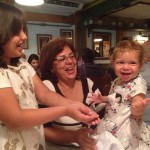 On Saturday, November 22, we headed to São Paulo, to spend a week at Fabio's parents' home.  The place where they live is the same house his father, Gilberto, grew up in.  Gilberto was born and raised there, so his parents know the entire neighborhood for a couple blocks in each direction.  Everywhere we went, we heard people say about Sophia, "Is that Rosa and Gilberto's granddaughter?"  (É neta da Rosa e Gilberto?)
São Paulo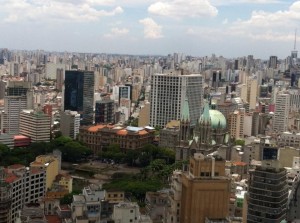 São Paulo is a busy place, with tighter quarters than Atibaia.  We walked around the neighborhood, drove to restaurants, went to visit Bolivian friends that Fabio used to work with, and welcomed many, many friends from Fabio's childhood and university days into their home.  The theme continued to be eating lots of food and dessert and almost everyone who came to visit had a present for Sophia!  We preached at a couple churches and explained Project Japan.  One day, we all got very sick – varying degrees of stomach issues and colds, but even still, Fabio and I preached that night at the Baptist church down the road.  Pizza is one of Fabio's family's favorite foods, so we tended to eat pizza at least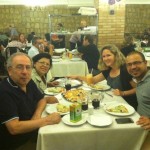 twice a week.  São Paulo pizza really plays down the sauce and is much more about the crust (a better word is dough because it is usually very soft and what I would sometimes call undercooked) and most importantly, the CHEESE.  Depending on what you order, the pizza has about a half inch of cheese on it, so for all you cheese lovers, you need to try pizza in São Paulo!
Guarujá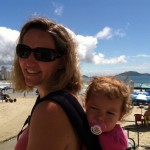 We spent a couple days at the beach in Guarujá.  That was a special time of visiting our friends, Gina, Luciano and their adult son who is currently studying in university.  One night, Luciano walked us up to the beach so we could spend some time there looking out over the water, eating sausage and wine, and it was very peaceful.  We could see Christmas decorations in the windows of the tall buildings on the beach.  Gina graciously stayed home to be with Sophia who had already fallen asleep.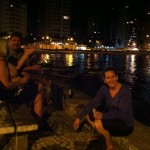 When we returned to São Paulo, we had breakfast planned with Alessandra and Luiza (Fabio's sister and niece) on Saturday morning.  When we arrived, however, there was a huge surprise party for us that Alessandra planned with lots of cousins and family members, friends of the family and friends of Alessandra's.  What did we do?  We ate and ate and ate…  turkey, ham, cheese, cheese bread, lemon cake, coffee, tea and juice.  We also talked and talked and talked because the theme of Brazil is "People and Food".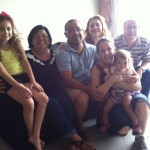 What a beautiful country!  So glad we had the experience of city, mountains and beach.  So grateful to have met more of Fabio's family (his family is HUGE – his mother is the 18th of 18 kids; his father's family is much smaller).  More than $12,000 was raised for Project Japan.
"Nós amamos o Brasil e todo mundo que está conectado a este país maravilhoso!!!"  We love Brazil and everyone who is connected to this wonderful country!!!
Johnna