When you pass through the waters, I will be with you; and when you pass through the rivers, they will not sweep over you. When you walk through the fire, you will not be burned; the flames will not set you ablaze.  Isaiah 43:2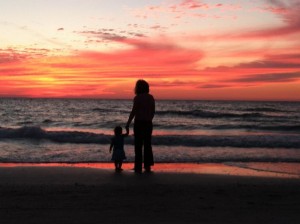 I recently heard about a man named John O'Leary.  When he was 9 years old, he wanted to see what would happen if he were to hold a flame to a gasoline can in his garage.  He had no idea that gasoline was so flammable that just getting a flame that close to the gas would cause a massive explosion.  He caught on fire and didn't think to "stop, drop and roll".  Instead, he ran around the garage and the oxygen in the air just increased the flames.
Finally, his 11-year-old brother wrapped him up in a carpet, took him outside and tried to extinguish the rest of the fire.  His 7-year-old sister poured cup after cup of water on his face which by this time was completely black and burned. John O'Leary is still alive.  He is now a motivational speaker who travels around the world and recently visited my mom's church.  100% of his body was burned and he lost all 10 fingers due to amputation, and yet, he inspires thousands of people to live with joy and gratitude.  As soon as I read his story, I thought of one of my favorite verses in Isaiah.  "When you walk through the fire, you will not be burned…" In October, we traveled to Canada (all three of us), Japan and California (just Fabio).  We met people who impacted us – many of whom are in the thick of struggle yet sense God's presence.  A few stories:
1)    Takeshi in Japan – In a country where many Brazilians  and Latinos are burned out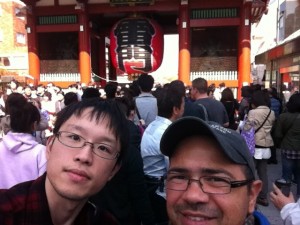 and not very interested in learning Japanese or taking part in Japanese culture, Takeshi is going against the grain as a Japanese man learning Portuguese so he can reach out to the Brazilian community.
2)      People in ministry in Canada and Japan who are weary and tired and long to be refreshed, yet continue to be faithful in the small things even without much recognition or any material benefit.
3)      Nancy Reed in Spring Valley, CA – I met Nancy Reed  almost 11 years ago when I was working in Covenant World Mission.  She was working in the same office and her husband, Jerry, was my evangelism professor at seminary.  Not long after that, in 2004, she and Jerry moved to Spain to be short-term missionaries.  Fabio met them there and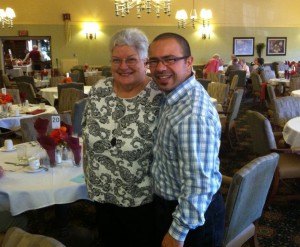 they were one of his very first Covenant connections.  Fabio and I have similar stories of Jerry making us breakfast when we stayed with them (me when they were living in Chicago, Fabio when they were living in Spain).  Nancy has encouraged us throughout the years, and was especially supportive during our dating season.  Jerry passed in 2011 and we miss his vibrant spirit.  Their son, Rob and his wife, Nancy, have also played key roles in our lives and Rob did our pre-marital counseling as a three-way Skype call (Rob in La Coruna, Fabio in Barcelona, Johnna in Tampa). What a huge joy for Fabio to be able to spend time with Nancy 10 years after their encounter in Spain.
Spotlight Corner!
Click here for our updated videos: (California Journey, Japan Vision Trip and Canadian Covenant Conference)
PRAISE:
– Safe travels in many places.  Itineraries that came together, much hospitality in Alberta, Canada, Japan and California.
– We met hundreds of new people, saw old friends and Fabio met one of Johnna's second cousins.  People have housed us, prayed with and for us, listened to our story and given generously to Project Japan.
– Many people in Canada and Japan inviting us to share and talk about Project Japan.  Click here to see the video.
– Many people in California who made Fabio's itinerary possible and successful.  Please click here to watch our California video.
PRAYER:
– Safety and health for our visit to South America.
– A miracle in our budget to move us past 35% and much closer to 80% pledged.  That we would somehow (against all human logic) be able to go to Japan in time for the all-Asia retreat in mid-February (that takes place in Thailand).
– For God to move hearts to join Project Japan, but more importantly, that God's promise would wash over all of us that we might know God is with us, walking with us in the deep waters, the blazing fires, the everyday joys and concerns, keeping the waters from sweeping over us, keeping the fires from setting us ablaze.
CALENDAR:
– Nov 1: Fabio returned from California and Johnna's niece's 10th birthday party (Brenna).
– Nov 2: Participating in Mission Sunday at the Brazilian Baptist Church in Tampa.
– Nov 8-Dec 8: The first week will be a trip to South America to look for connections with Lationos and Japan.  We'll be visiting Covenant missionaries in Colombia and Ecuador, hoping to encourage them and learn from them.  The second and third weeks Johnna's mom, Caren, will be joining us in Brazil where we will visit with Fabio's friends and family, introduce them to Sophia and preach at churches about Project Japan.  Johnna, Sophia and Caren will fly home together, leaving Fabio in Brazil for the last week to spend more time with his family and preach at more churches.