Romans 8:28 The Message:
That's why we can be so sure that every detail in our lives of love for God is worked into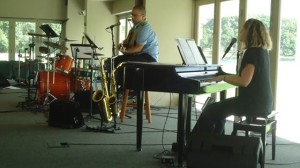 something good.
It was a routine situation. We've been doing it for about a year. We contact churches all the time to see if their pastor and/or mission committee can meet for coffee to talk about Project Japan. Fabio's planning a trip to California, so we were reaching out to churches in different parts of the state. But this time was different. I decided to try to find the Covenant church where my grandparents got married. I recall my grandmother telling me that they found the church because my grandpa was in the marines and the church invited them to a dinner for marines.
All I could remember was that it was a Covenant church in San Diego. I called one Covenant church and they said to check with Clairemont Covenant, since it's the oldest one in San Diego. So, I emailed the pastors there to find out if it could possibly be the right place.
Pastor Greg West responded with a series of emails detailing the research he was doing. He found my grandparents in the records of the church, having been married in the 40s. He said the church building had been sold in the 60s and now Clairmont's in another section of town. He mentioned the pastor who married them and other pastors who had been at the church during this time. And then came the kicker. "Based on your upcoming ministry in Japan, you may be interested to hear that the church building was sold to a thriving Japanese Christian Church who still meets there. "How incredible!
Within the next few days, we called that Japanese Christian Church at 1920 E Street in San Diego, CA and spoke with the English ministry pastor. He was excited to hear our story, partly because his sister married a 3rd generation Japanese-Brazilian and they are preparing to go to Japan as missionaries next year. Another reason he was excited was because he realized that the day Fabio will be in San Diego, he can meet with him and have coffee AND that evening just happens to be the monthly meeting of one of their small groups. Where will the small group be held that night? At the mission deacon's home!
Once again we see God's hand going before us with love, care and detail. I used to think Romans 8:28 was only for tragedy – a way of God giving us hope that somehow God would make good of whatever pain I was experiencing. This story about my grandparents' church makes me remember that it also applies to good things in life. On my more faithful days, I remember that my Creator actually loves me all the time and is in the details, writing the story with purpose and thoughtfulness.
Spotlight Corner!
– Click here for our updated videos: (Concert at Floodgates; Experiencing the Brazilian church in Tampa; Worship service at Faith Covenant; Worship service at Lakeview in Tarpon Springs)
Praise
– Last Saturday we had the joy of spending the day with our friends from Brazil, Luciano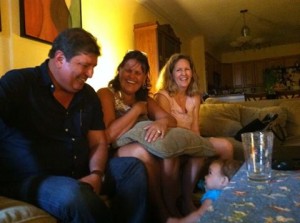 and Gina, who were on vacation in Orlando. They made the trip toward us, so we went to our favorite Italian market, Mazzaro's, then Fabio took them downtown St Pete while Sophia and I took a nap. Later that evening, they joined us at Floodgates Church in Lutz where we put on a 2-hour concert of mostly Sara Groves songs. At least four different churches were represented at the coffee shop atmosphere.
– Thanks to the Canada Covenant who are preparing for our visit at their pastor/spouse retreat, the Japan team who is preparing the way for Fabio's visit; those in California who are preparing the way for Fabio's visit; to you who reads this for praying and giving!
Prayer
– Safe travels this month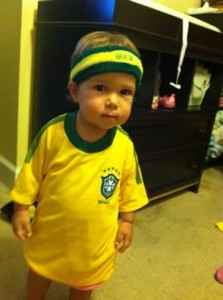 – Sophia's health and ability to adapt to new cities and people
– Sophia and Johnna as they experience the first extended period with Fabio away from the home
– Balance with work, ministry, family, personal rest and reflection time
– Eyes to see the ways in which God is in the details, working everything for good.
GET INVOLVED:
If you're interested in giving to Project Japan, click here.
***Note: All gifts to our support account are tax-deductible. You will receive a receipt. If you are giving more than once, you can use the receipt as a reminder to give again.