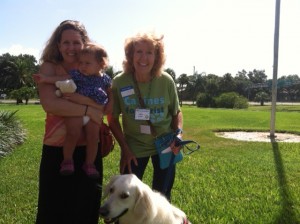 This morning, we had the privilege to join Jane and Buddy and visit the Florida nursing home called Bon Secours. (That means "good rest" in French).  Jane is a dear friend and sister from Faith Covenant church in Saint Petersburg, one of our newest supporting churches. She and Buddy have been trained through Canines for Christ and have been visiting Bon Secours on a weekly basis.
We all loved the experience. Sophia enjoyed meeting new friends. We had so much fun together and experienced love and a very sweet atmosphere.
As a family, it was a great opportunity to share God's love and care. As parents, it was such a beautiful way to teach Sophia to care about people and see the cycle of life. As missionaries, it was a kind of training because it is one of our goals in Japan to visit a nursing home since Fabio has experienced this ministry in Canada and the Japan Covenant church, along with missionaries Gary and Pauline, have been developing a nursing home ministry.
We had the chance to speak Spanish with some Spanish-speaking residents and workers. The workers were fascinated to hear of a ministry to Spanish and Portuguese speakers in Japan.  They showed interest in hearing us preach on September 14 when we are guest speakers at Faith Covenant.  Many residents receive little to no visitors.  Going with Buddy, the white Golden Retriever, it creates a perfect combo.  Almost all the residents like either dogs or babies and many like both.  One woman started crying today because seeing Buddy reminded her of her many dogs.  Nancy, in the picture below, has a wall full of pictures of dogs she's owned in the last 10 years.  Another woman said it was so good to see Sophia because it reminded her of her grandchildren in California.  Yet another woman started telling us all the names of her great grandchildren and how they would love to play with Sophia.
We are planning to join Jane and Buddy regularly to help them minister to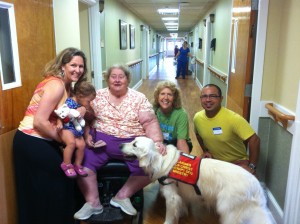 the people in Bon Secours by listening to them, showing our attention, care and love in a very simple, but practical way. In addition, we are planning to come back and do a concert for the home since they have a piano in one of their big halls where they program weekly activities.
Join us in this Japanese journey praying for our ministry and family as we keep walking toward Asia by faith –  building this project every day, brick by brick.
Fabio, Johnna and Sophia