What are you dreaming about?
Matthew 7: 7-11 "Don't bargain with God. Be direct. Ask for what you need….You're at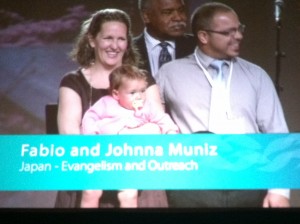 least decent to your own children. So don't you think the God who conceived you in love will be even better?"
This past month we heard a sermon about dreams. Then, Johnna preached on dreams at the Brazilian Baptist women's meeting. We've been thinking about dreams that have been fulfilled – working in French, running a marathon, living in Spain, having a child. And there are dreams that have not been fulfilled – getting a doctorate, visiting Banff, being the narrator in the musical Joseph. Does an unfulfilled dream mean we did something wrong or God doesn't care?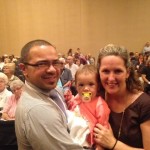 This month we experienced God's love "even better" than we were imagining. Fabio's dream to go into full-time ministry was fulfilled before we expected as the Brazilian Baptist church in Tampa hired him as associate pastor. He will continue to preach on Tuesday nights at their meeting and will help out with visiting and counseling people as needed. Their generous monthly gift is allowing him to quit his job and concentrate on raising funds for Japan. As soon as he heard of their offer, invitations to speak about Japan started coming in. Many of these would not have been possible if he had to stay in his job at Citi bank because he wouldn't have had enough vacation time.
OUR SCHEDULE: 
– Sept 14: Preaching at Faith Covenant Church in St Petersburg, FL
– Sept 21: Preaching at Lakeview Community in Tarpon Springs, FL
– Oct 4-8: We're all heading to Calgary, Canada to visit churches and connect with pastors at the Canadian conference pastor/spouse retreat
– Oct 10-20: Fabio's heading to Japan!!! This will be a "vision trip" – a chance for him to meet the Covenant missionaries, the Japan Covenant church, and to talk and dream about where we will live and what we will be doing
– Sometime in October: hoping for Fabio to get to California to visit the Hispanic Center for Theological Studies (CHET), Mount Miguel Covenant Village, Newsong Covenant Church, Covenant Village of Turlock, Turlock Covenant Church
Fabio & Johnna