"We are co-workers with God" was the theme of the CEUM's biennial conference for pastors and their spouses held at Yakoma Feb 8-13.  The text for the theme was from 1 Cor 3:1-9.  776 attended of whom 512 were couples.
Pastors and spouses came from throughout the CEUM traveling by bicycle, cargo truck, small truck, motorcycle and walking.
One group walked 500 kms from Lisala and arrived on Thursday and the conference was over Friday evening.  WOW.  I can't fathom that commitment to attend.  I took two days to drive the 500 kms from Gemena.  On our return we did it all in one big 15-1/2 hour day!
This year, Rev. Steve Larson, pastor of Redeemer Covenant Church, Brooklyn Park, MN, was invited by President Mboka to give morning devotions several days and an afternoon workshop on "the Pastor and his rest."  During the daily opening worship services Steve spoke on how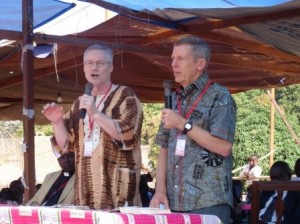 Steve preaching with Pete as translator
We are God's field. Fields are ready for harvest. God's people are the field. We are to protect and care for the field, not hurt it.  We work with God in the field
You are God's building. God's home. God's temple. We work with God. As God's temple you need to care for it.
God's workers don't work for division. We are work together with God for unity within the church.
He also gave an additional talk on "The Pastors and his errors, shortcomings or sins."  He reminded the pastors that they are also people.  As pastors we make mistakes which need to be corrected. Sometimes our church people will correct us. Sometimes other pastors. Sometimes non-Christians. We need to be open to those who correct us because not, it will cause many problems.  He challenged the attendees to develop deep relationships with a few people who can help hold you accountable.
Marta Klein was invited to lead an afternoon workshop on health for the pastor and for his family.  Monday and Wednesday afternoons she gave this to smaller groups of pastors and Tuesday she spoke about family health to the women.
In addition I was asked to give a workshop on integrity in leadership.  We looked at the dilemma we all face as described by Paul in Romans 7, numerous scriptures that define what integrity is, the example of Daniel, the failing of Peter in Galations and the example of David when confronted with his sin.  I closed by challenging the leaders to live up to all that God calls us to be as men, husbands and fathers or women, wives and mothers.  I am continually challenged by the resolutions from the film "COURAGEOUS" and distributed those to the attendees.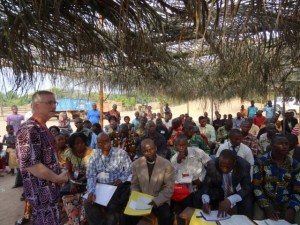 Our accommodations in Yakoma were excellent.  Jean-Paul and Yvette opened their home to Steve, Marta and me, giving each of us a room.  There were solar lights when we needed them, plenty of water for bathing, mosquito nets and delicious breakfasts and suppers.  Our noon meal was with other conference attendees at a house that was along the Ubangi river.  Beautiful!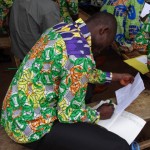 I have attended the last three conferences and each one has been a special time of blessing for everyone attending.  There is fervent worship and praise, conviction and confession of sin, forgiveness, challenges from the speakers, laughter, reconnection with former classmates not seen for at least two years and much, much more.  This year I heard people comment about their appreciation for how practical the conference was, giving them tools for ministry and challenging them in their walk with the Lord.  With the encouragement received from being together it is no wonder that pastors and spouses go to extra efforts to attend.