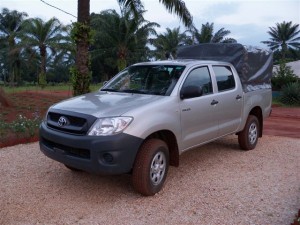 Our Congo missionary staff is growing and reliable transportation is needed when we travel for pastors' seminars, medical outreach, agriculture development, discipleship, and education. At present we only have one newer truck and one older truck for 10 missionaries.  See the links below to previous stories we've posted about travel in Congo.
Would you consider giving to help us purchase another vehicle? We hope to purchase a new truck in the next 6 months.  Click on this link to give or click the TRUCK picture in the sidebar on the right.  Please designate your gift this way: #5002-2266-78-30 Congo Mission – Vehicle Fund.
Thank you for considering this!
Enjoy reading through these stories about travel in Congo:
Truck arrived – Sept 2010: This is the "newer" truck we refer to above.
The Road to Zongo – Dec 2010: There are three ways out of the country.
1. You drive the road to Zongo (assuming the bridges are all intact), cross the river in a canoe, and arrive in Bangui, CAR.
2. You fly to Kinshasa, DRC on one of the Congolese airlines and catch an international flight out of the country.
3. You charter a mission aviation flight to pick you up on a small plane and fly out of the country.
Zongo Border Crossing – Dec 2010
Fording a River – April 2011: This is why we need trucks out here, not just cars, motorcycles, or bicycles.  Couldn't have made it without the 4-wheel-drive, powerful engine, and high clearance.