Labor Day weekend we got to the lake 2 times to water ski.  Friday Cindy and I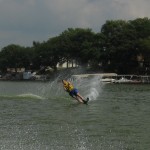 went with my parents for some fun.  We slowly went around the lake and gauked at the houses.  I also got to ski twice.  Fun.
Monday afternoon Dean and I went down with 3 of kids kids.  He and I skied, Bethany got up for a very brief time on slalom and all 3 of us played with the saucer.  What a hoot that is!  It is a 3 ft diameter piece of plywood that we painted up and varnished heavily.  You don't go very fast on it as it is extremely skittish when you're on top of the water.  Of course falling is very easy too.  Enjoy the video of Dean doing a 360.  To see the same of me you have to go to facebook.
Dean doing a 360 on the saucer