Tom Dierenfeld
← back to Speaker Team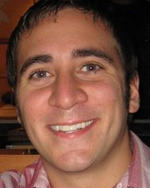 Info
Seminars: We're Here to Serve
Currently serving as: Director of Youth Ministry for LifeSpring Covenant Church
Credentials: Certificate of Christian Studies, Covenant Bible College; B.A. in Communication Arts, North Park University; currently working on an M. Div and Certificate of Non-profit Management at North Park Theological Seminary
Sermons: listen here
Bio
Spiritual journey: I was born into and raised in the church, so I can't really remember a time where God was not the foundation upon which my life was built. However, I am told that at five years old, I prayed one evening with my mother, after hearing about eternity with Jesus, to receive Christ's grace, life and love as Savior and Lord. It was in Jr. High at a weekend youth conference that I was "wooed" by the love of God in Christ who came to bring salvation. That weekend was a time of repentance and renewal as I committed to a lifelong journey of following Jesus, and from that point on, my life would never be the same. I was soon after baptized and have grown in my walk with Jesus day by day as Christ is continually faithful.
Call to ministry: When I was in high school, an adult leader in my youth group asked me if I had ever considered being a pastor of some sort. I told her that I had not, because I still thought I had a shot at being in the NBA at that point. I had thought about youth ministry a couple of times (I really loved our church youth group) but I didn't know if that was just me liking youth group, or if God was calling me into the ministry. The professional basketball dreams didn't pan out (I barely kept up with the team at CBC), so I took that as a clear sign that Christ was calling me to serve in His church. Many people that I trust and respect have affirmed the gifts in ministry that God has given me, and the Lord keeps opening doors for me to serve Him in youth ministry. This task and responsibility is great, and I hope that through prayerful discernment and commitment to the Scriptures, I will be faithful to obediently follow the Faithful One, and be a good steward of all that God gives.
I am passionate about: Seeing young people commit their lives to Christ forever. My heart aches for young people who are hurting, left alone, and those who have gone astray from truth, life, and the love of Christ. I want to see each generation passionately in love with Jesus, and living out a vibrant faith daily when they are young as well as when they become old. It is a shame when babies in the church grow up to be adults who live as aliens to the faith of their parents. It is my hope that through compassionate evangelism, sound, biblical teaching in discipleship, and supportive sending, that the church will be mobilized and sustained by youth seeking first the Kingdom of God, loving the Lord with everything they have, and loving their neighbors as themselves. I want my life and teaching to reflect the love of Christ in such a way that compels others to turn to Him and passionately love and follow Jesus.
How long have you been involved in ministry? I have been in ministry since 2005. I was a youth intern at LifeSpring Covenant Church in Loveland, CO for a year; I served at North Park University on a worship band, YoungLife, missions teams, and chapel planning committee, at various points in my final two years of undergraduate studies, and spent 6 months in Zambia, Africa as a non-profit intern, partnering with a local church.
What do you think is important that we know about you, as a member of the Speaker Team? I just want to share the love of Jesus with the world. I love to laugh, have fun and work with people to see God's Kingdom come on earth as it is in heaven. I've been married since June of 2010 to my beautiful wife, Celeste, whose constant love, care and support is something for which I'm eternally grateful. I also like to sing, play guitar, drums, ultimate Frisbee and basketball and I'm a huge fan of green Jell-O, sour gummy worms, and (the Minnesota Vikings…sometimes). I'm excited to partner with you in ministry!