Kevin Farmer
← back to Speaker Team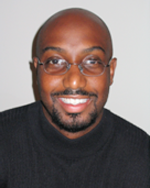 Info
Seminars: We're Here to Serve
Currently serving as: Associate Pastor, Equipping & Empowerment for Sanctuary Covenant Church
Credentials: Ordained to Specialized Ministry
Bio
I am passionate about: Helping students come to know and experience Christ as well as encouraging the folks who serve them.
How long have you been involved in ministry? I have been in ministry since 1994
What do you think is important that we know about you, as a member of the Speaker Team? Pastor Kevin is the architect of spiritual formation opportunities at SCC that grow people on their life-long journey with God. He also helps people get connected to meaningful opportunities to serve in their area of giftedness. PK has a tremendous desire to see people grow into the fullness of all God desires them to be. Originally from Philadelphia, he received his BA in Africana Studies from the University of Pittsburgh and his MA in Christian Education from Bethel Theological Seminary. Kevin enjoys teaching and golf and virtually anything involving his 3 favorite people, his wife Lynn, son Noah and daughter Maya.