Denise McKinney
← back to Speaker Team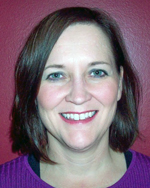 Info
Seminars: We're Here to Serve
Currently serving as: Spiritual Life Director at Metro Christian Academy in Tulsa, OK
Credentials: I will get bi-vocational ministry license w/ECC this year; Certificate in Youth Ministry from Fuller Seminary; B.A. in Vocal Music/A.A. in Church Ministry from John Brown University
URL: visit here or here
Bio
Spiritual journey:I've been following Christ since my childhood, but the greatest joys in knowing him for so long is the recognition that God is still at work in and through my life, and knowing that I need him now more than ever.
Call to ministry:God used two experiences in my life to show me a call to youth and family ministry: 1) I grew up in an amazing church in Casper, Wy that nurtured and challenged my faith, and 2) my parents served as foster parents to dozens of children and teens for about 20 years. Seeing that kind of brokenness in families and kids awakened my heart to the deep needs of adolescents and their parents.
I am passionate about:people, team building, going after the kid on the fringe, running, hiking, mountains, singing, writing.
How long have you been involved in ministry?I have been in ministry since 1993. I served as the Director of Student Ministry at Redeemer Covenant Church in Tulsa, OK for 13 years, Interim Director of Worship at Redeemer Covenant Church in Tulsa for 1 year, and now as the Spiritual Life Director at a K-12 Christian School. As a writer, I've written for YouthWorker Journal, YMToday.com, and have authored Mile Markers: A Path for Nurturing Adolescent Faith and The Real Life Field Guide for the ECC.
What do you think is important that we know about you, as a member of the Speaker Team?I love environments where I can get to know people and customize my speaking/coaching to where they are in their faith journey. My heart in ministry is to help students take the next right step in their faith and help ministry leaders shape their ministry to be effective and enduring in students' lives.