Welcome to our blog on this beautiful Wednesday!
My name is Rory and I am the speaker for our Tribe.
We are currently support raising from Auburn, WA with the help of our church, Cedarcreek Covenant. We are only just beginning, but boy is it a slow process. Mommy needs to write the letter one million times and then choose pictures she likes, then mumble something about how much she hates it and start all over from scratch. This majorly cuts into my playtime with her, so I'm hoping she just commits to something soon. Daddy is trying very hard to help with the letter, keep the house clean, get projects around the house done, and work five days a week. I can't seem to sleep lately, which makes for a very sleepy household. My inability to properly express what I need in English has also been difficult…
But all in all, life is good. I get lots of kisses and we have been to the lake probably five times this week! I like Summer, there is so much to do! I will be One Year Old next month and I'm hoping to have my very own sorbetto cone. But I am also very excited to really begin support raising. You might think that is a little weird, but it means we get to go to new places and I get to make new friends! Mommy and Daddy will be able to tell people about Oaxaca and our call, while I smile and get to know everyone. There are few things I love as much as making new friends.
So, we are praying for Mommy to be satisfied with the letter and for lots of people to join us in ministry! If you think you might like to partner with us, if your church or business might be interested in hearing more, if you know someone who might want to be in touch with us, or you just want to chat with my Mommy and Daddy – you can contact them at mark-malia.dullanty(at)covchurch.org or 206.914.7640. Thanks!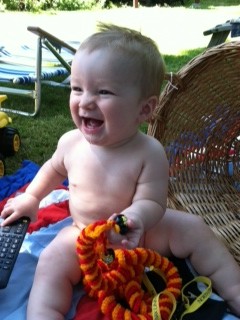 Pool and backyard time!