Psalm 126: 1-3
"When the Lord restored the fortunes of Zion we were like those who dreamed. Our mouths were filled with laughter, our tongues with songs of joy.Then it was said among the nations, "The Lord has done great things for them." The Lord has done great things for us, and we are filled with joy."
It was 2pm on a Saturday afternoon a couple weeks ago.  Our neighbor, Linda, called to ask us what we were doing that night.  She offered us two free tickets to a dinner at her church that would include a four-course meal and musical entertainment.  We were in!  We arrived (with Sophia) at the church located in our neighborhood just a few minutes late.  I saw a woman going in a little ahead of us. When we arrived at the dining room that had been set up with vinyl records hanging from the ceiling, black and white table decorations, the smell of chicken parmesan in the air, we didn't know where to sit.  Over in the corner, I saw the same woman once again. "Let's sit by her – what do you think?" We approached a table with more than two chairs open and sat right next to the woman we saw when we walked in.  Me: "Hi, my name is Johnna.  What's yours?"  Woman: "Noriko." Great big smiles and lots of remedial Japanese followed. Noriko is Japanese and she and her husband (also Japanese) have been living in our neighborhood for about 20 years. The dinner turned out to be delicious, but even better than that was the conversation and connection with dear Noriko.  She wrote us on Facebook later that week, "I feel like I have known you for a long time!" We plan to get together with her for lunch this week.
While Fabio and I were dating, a good friend of ours gave us the words to Psalm 126. It was read at our wedding. We're brought back to it during this season because after more than 12 weeks, our certificates of eligibility were delivered to our sponsor's house in Tokyo and are in the mail on the way to us right now!  Once we have them in hand, we are ready for the next step – a trip to Miami to apply for visas to Japan. We could be in Japan as early as June 26th!
We know the road ahead will not always be smooth, but we take time now to dream, to laugh, to sing songs of joy and to repeat, "Yes! God (is doing and) has done great things for us." The story of meeting Noriko is yet another "good thing" in a long, long list. We are excited, emotional, humbled, filled with a healthy amount of fear and trembling, and keenly aware of the enormous responsibility we have to represent you – our families, friends and partners – in a way that honors the One we believe put this whole project in motion.
PRAISE
– Johnna's last day at work was June 5th. She celebrated with her lunch group and the colleagues she sat by at separate lunches. Her three bosses and supervisor were understanding and supportive of the move to Japan. Thank you for praying for her to finish well!
– Goodbyes at Lakeview in Tarpon Springs,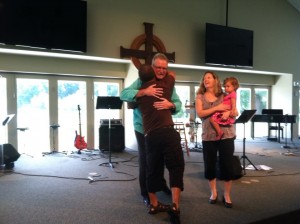 Faith Covenant in St Petersburg, Floodgates in Lutz (Fabio preached) and The Grace Way Brazilian church. We felt loved and prayed for. We will these supporting churches tremendously. Click on the highlighted words to see pictures.
– Outdoor barbecue (churrasco) with The Grace Way Brazilian church.  Click here  to see videos.
– Fabio's surprise 40th birthday party at  Texas de Brazil.  He was definitely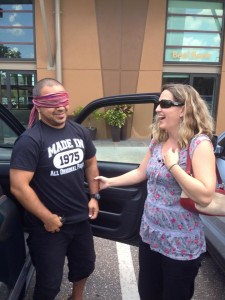 surprised! Click here to see pictures!
– Fabio was asked to make a video and talk about vocation and ministry for one of our Brazilian partners.  See here.
– For more stories and recent videos, go here.
– For more pictures and to walk with us on this  journey on a daily basis, click here to be our friend on Facebook.
PRAYER
– Our trip to Miami to apply for our visas to Japan and to visit individual and group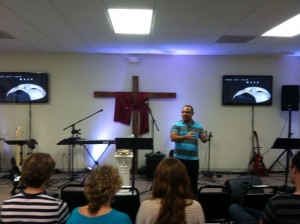 partners, to thank them and hug them.
– All the details that go along with moving out of an apartment, changing addresses, studying languages, making decisions about what to keep, store, throw away, packing all of our belongings into suitcases, etc.
– Our pledged support for a two-year budget is at 95%!  We continue to pray for the final 5%. To help us with the last 5%, click here. Thank you for your generous and sacrificial giving.
GOODBYE PARTY – YOU ARE INVITED!!!
For everyone in the Tampa Bay area, we are having an open house goodbye party on Saturday, June 20th, from 9:30a-12p ET.
Location: Starbucks in Feather Sound, 2577 Ulmerton Rd, Clearwater, FL 33762
(727) 540-9177
Thank you for reading this and for supporting Project Japan,
Fabio and Johnna