Therefore the LORD longs to be gracious to you, and therefore He waits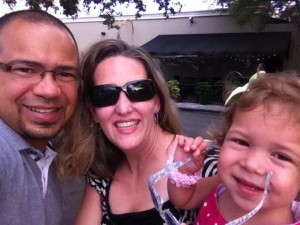 on high  to have compassion on you for the LORD is a God of justice; How blessed are all those who long for Him. Isaiah 30:18
There's a lot of waiting going on. The people of Nepal are waiting for more aid after the destruction of the recent earthquake. The people of Baltimore are waiting for justice in the latest heart-breaking story of another city in the throes of complex racial tensions. Friends of ours are waiting to hear from jobs they've applied to. Other friends are waiting to find life-long partners with whom to share their dreams and futures. Other friends are waiting for surgeries and diagnoses about cancer and other health concerns. Many women around the world are waiting for life to appear in their wombs. Many children, most too young to know it, are waiting for foster or adopted parents to love and care for them. Others are waiting for healing from trauma and abuse. There's a lot of waiting going on.
We are also waiting, but definitely not with the same sense of anguish and desperation of those listed above. We are waiting for the transition to truly begin – life in the U.S. to life in Japan, living in an English-speaking country to living where Japanese is predominantly spoken, living near family and friends to making new family and friends, buying groceries with ease to learning how to recognize the Japanese characters for "gyuunyuu" (milk) and "gohan" (rice). We are excited and even though our waiting is not very painful, the words from Isaiah are comforting. They're comforting because they're also filled with the hope we want to live out in Japan – that a gracious and compassionate God exists. That this God is a God of justice. And that all who long to know this God are blessed. It is thrilling to be in this time of "waiting" not because waiting is fun or easy, but because the anticipation continues to grow and the general sense that we are not going alone continues to deepen.
PRAISES:
– A wonderful time with Faith Covenant mission friends at our place. We had about 10 people over for homemade chocolate cake, raspberry-lemon parfait and Fabio's fancy coffees that he makes with an espresso machine.
– A meaningful time with Tampa Underground as we were interviewed by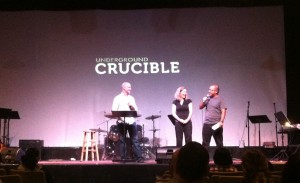 them about Project Japan. Click here to watch our interview.
– We've been making progress getting rid of some books and clothes, making plans for our cars, and more than half of our furniture has been claimed.
– Johnna continues to enjoy her job, waiting until the certificate of eligibility comes in before giving her two weeks notice.
– Johnna had an amazing birthday with breakfast served to her in bed by Sophia and Fabio, then a picnic lunch (Chinese food and brownies) with those two and Johnna's mom followed by dinner at a seafood restaurant with family in Florida.
– We spent a Saturday evening at Bayshore Baptist's BBQ and got to bring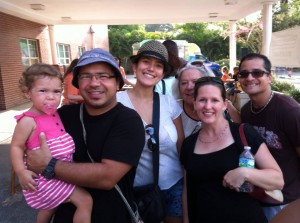 our friends Pedro and Monise to join in the fun.
– Fabio continues to preach on Tuesday evenings for the Brazilian community where he is associate pastor.
– Sophia is a joy to have around. She has a great sense of humor and a very strong will. As she approaches her 2nd birthday (in June), she's learning to exercise that will more and more.
– Our two-year budget is over 94% pledged! To help us with the last 6%, click here.Thank you for your generous and sacrificial giving and for all the prayers that got us to this percent!
PRAYER:
– That the certificate of eligibility would come soon. There has been a delay because a couple documents were not translated into Japanese. They are being translated and then submitted next week.
– Once we hear the certificate is ready, we will plan a trip to Miami to get our visas. While there, we plan to visit the Covenant Village of Plantation City and a few friends and partners who live in the area.
– That all three of us will long for our gracious, compassionate God of justice as we actively wait and prepare for this transition, trusting Jesus with the details that are beyond our control.
Fábio, Johnna and Sophia
Clearwater, Florida