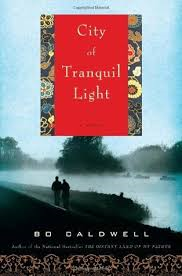 City of Tranquil Light – by Bo Caldwell
I recently finished one of the only books I've read since Sophia was born.  It's a story about young missionaries who go to China, fall in love, get married, and serve there for 20 years together.  It is an incredibly moving story about faith and loss, joy and grief.  I was moved to tears more than once.  My favorite part about the book was that it brought me in touch with my own experiences of loss in my life.  It allowed me to grieve without losing faith.  There are no simple, pat answers for the struggles they go through in this book and that is refreshing against the back drop of feel-good Christian novels.  Though emotions are left unfinished and prayers are left unanswered at times, there is a deep sense of the peace and presence of God amidst the storms of life.  One of my favorite reads in a long time.  I'd liken the author's style to that of Francine Rivers, with an ability to weave the pains and joys of life in a realistic and beautiful mosaic.
Other than reading this book, I find myself watching episodes of Parenthood – one of the only shows on TV that seems to put family values at the forefront.  I love watching this family that does not practice any religion live out love and faithfulness in ways that remind me of Jesus more than myself and many others who call themselves Christians today.
Between the above book, the TV show Parenthood (seasons 2 and 3), and our new church family (Tampa Underground), I am entering a new season with God.  After about three years of more of a muted relationship with God, it seems that some new life is blossoming.  My heart is softer, my attitude a little more gentle, I'm praying for Christ to change some deep-seeded impatience and irritability in me in ways I've never prayed before…  I'm laying my relationships with those I love the most down and working on surrendering my pride and false sense of control.  I still have a long way to go, but movement is such a sweet thing – such a symbol of hope and change.
Johnna